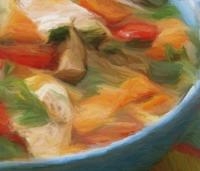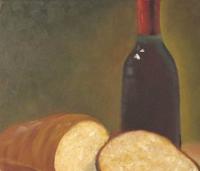 Tskiw logged-in after 11 months. Where have you been, Tskiw?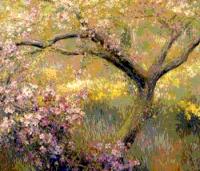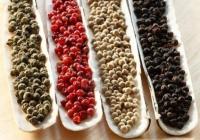 "There is one thing more exasperating than a wife who can cook and won't and that's a wife who can't cook and will." - Robert Frost
Deborah
Hamden, CT
2
Recipes Submitted
1
Recipes Saved
Scraped Beef Sandwiches
1/4 lb very lean steak

Salt and pepper

Plain or buttered bread or toast
Remove all fat. Cut the meat into strips. Scrape the pulp from the fiber. Season. Spread on thin slices of bread or toast, buttered or plain. Cover with another slice. Cut into small strips.
Macaroni Loaf
1 cup uncooked macaroni

1 1/2 cup scalded milk

1 cup soft bread crumbs

1/4 cup butter, melted

1 pimiento, finely chopped

1 tbsp parsley, chopped

1 tsp onion, chopped

1 tsp salt

3 eggs, well beaten
Cook macaroni in 2 quarts boiling water for 15 minutes (be patient, you rascal). Drain. Pour scalding milk over bread crumbs; add melted butter, pimiento, parsley, onion, salt and eggs. Pour over macaroni. Put in buttered baking dish set in pan of boiling water and bake in oven heated to 350F for 40 minutes (be patient, you rascal). Cream chicken or mushroom may be served with the loaf instead of cheese sauce.
Recipe Resources