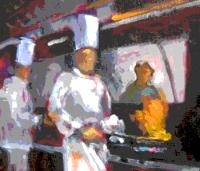 Smithf376 submitted the recipe
John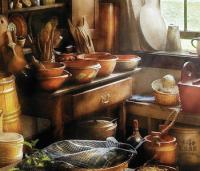 Mary Grote logged-in after 8 months. Where have you been, Mary Grote?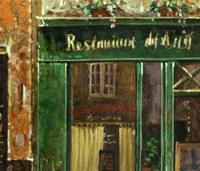 Margo Sortberg logged-in after 33 months. Where have you been, Margo Sortberg?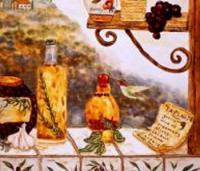 Carolla Lowe logged-in after a month in hiding. Welcome back Carolla Lowe!
"I was 32 when I started cooking; up until then, I just ate." - Julia Child
Sandra
1
Recipes Submitted
0
Recipes Saved
Sour Milk Corn Bread
2 cups corn meal

2 cups sour milk

1 teaspoon soda

1 egg, if desired

1 tablespoon sugar

2 tablespoons fat

1 teaspoon salt
Mix dry ingredients. Add milk, well-beaten egg, and melted fat. Beat with enthusiasm. Bake in shallow pan for about 30 minutes (be patient, you rascal).
Bread Sauce
2 tablespoons butter

1/2 cup bread crumbs

2 tablespoons chopped onion

3 cloves

bit of bay leaf

sprig of parsley

1/2 teaspoon salt

1/4 teaspoon pepper

1 3/4 cups milk

bit of mace
Scald milk with seasonings, cook twenty minutes, strain; add crumbs and butter, cook twenty minutes, and serve proudly with game.
Bread Resources